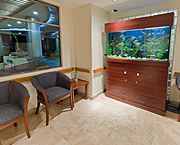 Es un espacio amplio en que le queremos ofrecer una atmosfera de tranquilidad, para ello están a su disposición una gran número de asientos en caso de que usted, familiares o amigos estén a la espera de información.
La sala de espera está ambientada con una pecera que genera tranquilidad, así también ponemos a su disposición folletos y revistas con datos de su interés, una televisión y un despachador de agua, que son de libre uso.
Médica Sur, hacer de su espera una experiencia confortable.
Contact us
Board of International Medicine and New Projects
Médica Sur S.A.B. of C.V.
Toll free from USA and Canada:
Monday to Friday, 9 a.m. to 6 p.m. CST
Director: Misael Uribe Ramos, M.D.
miuriber@medicasur.org.mx
Manager: Mariana Fernández Del Castillo Frías, M.D.
mfernandezc@medicasur.org.mx
Médica Sur 2019

All rights reserved
Notice of Privacy
Puente de Piedra 150,Toriello Guerra, México City.