We offer space for our physicians to learn about the different diagnostic tests performed in our Unit.
Arthroscopic Magnetic Resonance
Arthroscopic magnetic resonance is a mini-invasive imaging method with minimal discomfort in which under fluoroscopic control and a previous aseptic technique, a thin intra-articular needle is used to deposit sterile saline and minimal paramagnetic contrast to distend the joint capsule and get magnetic resonance cuts in high resolution thereby generating clear interfaces between intra-articular tissues, and achieve the highest sensitivity and specificity.
Directions
Hip
Accurate assessment of acetabular labrum which is round cartilage and ligaments found especially in athletes (arthroscopic resonance sensitivity of 90% vs. 30% with a conventional MRI, Czerny et al. (J Bone Joint Surg (Br) 2008; 82-B :426-32)
To assess the consequences of a femoroacetabular impingement with a dysmorphic type cam, pincer, or a mix of both, and an intra-articular sequelae of acetabular dysplasia or proximal femur structural pathology.
Post dislocation evaluation, intra-articular dislocations.
Shoulder
Situations in which the clinician requires more detailed information than conventional MRI images, some examples are:
Accurate assessment of sequelae of intra-articular lesions in patients with glenohumeral instability with a history of dislocation or not. This assessment provides the detailed status of cartilage, labrum and capsular ligamentous complex (Bankart lesions such as ALPSA, PERTHES, GLAD, HAGL, IGL, POLPSA, etc.), and SLAP lesions.
Accurate assessment of lesions of the articular margin of the supraspinatus and infraspinatus tendons (PASTA lesions) particularly in athletes with supra cephalic throwing activities.
At times it may assist in the treatment of adhesive capsulitis.
intra-articular dislocations.
Knee
Arthroscopic resonance is rarely needed for the knee. Some orthopedic surgeons have requested this study in cases of post meniscus surgery where there is no clear assessment in accordance with the time of evolution and if granulated tissue or ruptures are present.
Preparation
This study does not require any preparation.
In the MRI unit we have made, from 2007 to date, nearly 300 arthroscopic resonance studies with excellent results and no complications.
Currently, between 2-5 studies are conducted weekly. We are one of the few MRI units in the country that use this method and are considered the most experienced health institution.
Complications
To date, in our unit, we have had no reports of complications, however, reports show a very low probability of infection.
Examples of Arthroscopic resonance
Conventional MRI. In this example we can see the benefits of intra-articular fluid in an intra-articular assessment.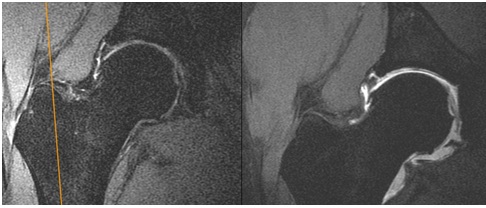 Arthroscopic resonance of shoulder injuries SLAP and PASTA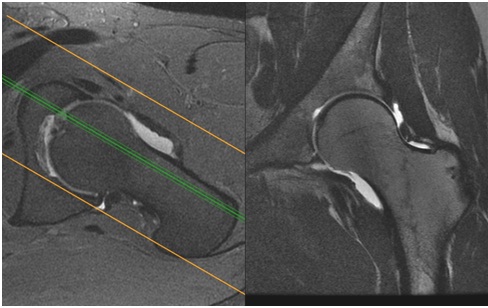 Sequential Cartigram FSE T2 ACL Rupture